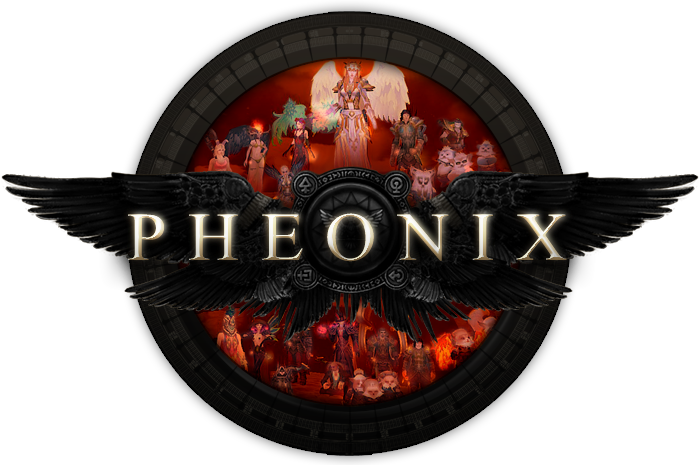 PHEONIX
...is one of the top League endgame guilds on the late Nezeb server and aspiring to be a top guild on the new Yul server. We are a casual PvE and PvP guild with emphases on hard work, fun, and community camaraderie. Our guild is currently approaching level 33 and our members are level 51. We hope that as our guild grows and strengthens that our members grow along with us and share in the journey.
We are not solely focused on gear obtainment or progression which leads many to find us too relaxed and laid-back. It is not because we are uninterested in improving and strengthening ourselves, but because we believe material things such as gear should be a means to an end, not the be-all end-all to everything.
On the contrary, we are extremely active in all aspects of endgame content: Astral Confrontation, Melting Isle, Arena of Death, June Catacombs, Mausoleum of Sparks, Witch's Hollow, Genoer, Heroics, Astral Heroics, Astral Sailing, Gorluxor's Tower, and currently getting ready for Dead City. The biggest belief we have is that this game should be a fun experience and we try not to make the game turn into any type of job or serious burden.
We emphasize loyalty, charity, friendliness, humor, patience, flexibility, resourcefulness, competitiveness, independence, pride, and many other virtues. We are willing to help anybody who seeks help or need words of advice.
We value players who help other members, are active in the guild, do guild quests to increase their loyalty and contribute prestige to our guild, and/or donate money to the guild. Members enjoy autonomy, freedom, and a laid-back environment rarely found in other guilds. We do not have guild attendance quotas, minimum prestige/loyalty cutoffs, or enforced recruitment responsibilities. We believe in our members to be mature and responsible, pull their own weight, and not take advantage of their liberties and so far we have thrived and succeeded due to this trust.
Our goal is to complete all the endgame content at our own pace, on our own terms, while answering to no one and having the most awesome fun possible with our friends while doing it!
We are in a war and Pheonix will be a loyal and tenacious defender of Novograd. Long live the League, and long live Pheonix! Like the Pheonix, the bird of rebirth and flame, we will rise from the ashes and fires of destruction, born anew and shine with unsurpassed splendor!

RECRUITMENT
Roster Openings:
H
Warrior
M
Paladin
M
Scout
H
Healer
M
Mage
L
Summoner
L
Warden
H
Psionicist
H
Bard
Requirements:
- Play a League character on Yul server
- Be level 51
- Have a friendly/positive attitude
- Be willing to complete guild dailies
- Be reasonably active (we're a casual guild, not a ghost-town guild)
General Rules:
- Treat your fellow guild mates, League players, and even Imperial enemies with respect and honor. Be humble in victory and gracious in defeat. Remember that as a Pheonix member you are a representative of the guild and your actions reflect upon who we are and what we stand for.
- Keep drama outside of the guild and inside the soap operas where they belong. If you are in a bad mood, avoid confrontation by keeping it out of guild chat and if you and another guild member disagree, settle it in private. If you need a guild officer to be a mediator then request their services.
- When you are able to spare the time and effort, help your guild members when they ask for assistance. Pay it forward, it can make a world of difference to them. Remember that those who shirk responsibility should not expect others to be responsible for them in times of need.
- At the same time, people in the game want to have fun and have busy real life schedules. They are NOT obligated to help you. If you ask for help and don't receive it, don't take it personally. Look outside the guild for help or come back and ask again at a later time. Resourcefulness, flexibility, and understanding are wonderful traits.
- Whining, begging for items/gold/help, or hazing/harassment will NOT be tolerated. If these actions are repeatedly committed, you will be removed from the guild.
- Finally, have FUN! Don't take the game too seriously, this is supposed to be a hobby. The happiness of Pheonix members is my most important concern and as long as we're all under the same guild rest assured that everything is being done to maximize each individual's enjoyment of the game.
Application:
- Go to the guild website listed below and register
(with your character name)
- Access the "Recruitment" forum, create a new topic, and list the following:
1. In-game character name
2. Class
3. Level
4. Play style (casual/endgamer, PvE/PvP, Tank/DPS/CC/Full Healer, etc.)
5. Your reasons for wanting to join Pheonix and your reasons for leaving your previous guild.
6. Any additional pertinent information such as nationality, age, hobbies, etc.
To get an update of your application status, check your thread from time to time for either a confirmation or rejection from a guild officer. If you are accepted, you will either be contacted in-game or you can whisper one of the Pheonix officers listed below for a guild invite.
RESOURCES
In-Game Contacts:
Gwynell, Shagsbeard, Zabookiman, Narawen, Duvalia, Rehab, Kiita
Pheonix Website:
CLICK HERE
Guild Spotlight:
CLICK HERE
Vent Info:
RESTRICTED
Alternate Guild:
Pinecones
Leveling Guild:
Spectral Guards (INACTIVE) -
CLICK HERE
"
War, desolation, and chaos created the ashes from which we were reborn.

We were scattered over the Astral and landed together, joining our forces to strengthen our stand against the Empire.

All who stand against us.

All who dare try to tear us down and destroy us.

Know this. We may falter...we may fall...we may fail...

But we will rise again...for we are eternal.

We are...Pheonix.
"