ARE YOU A NEW GPOTATO USER WHO IS READING THIS AND ENJOYS THIS GUIDE? PLEASE SIGN UP USING MY LINK! http://refer.gpotato.com/?u=3625892&l=h ... 2Fgiveaway
Over the past couple of days, I have found it absolutely necessary to use some addons as I level in various raids, parties, PvP, and so on. I find that knowing my damage sustainability helps me a lot, so I hope to share some of these with you guys.
Here is a screenshot of my current UI.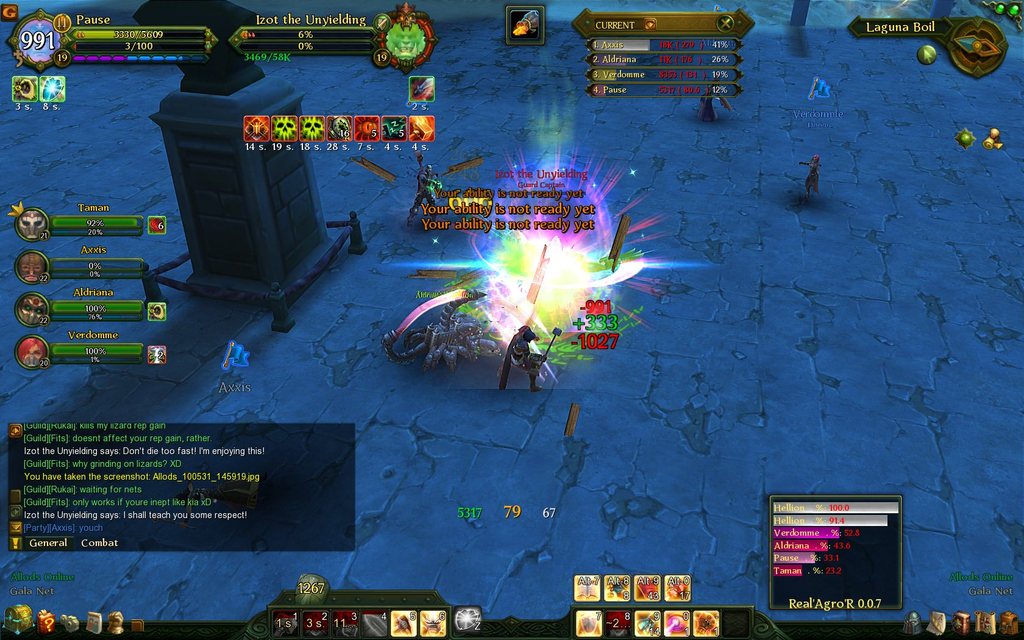 full scale picture:
http://www4.picturepush.com/photo/a/354 ... 145947.jpg
full scale picture:
http://www3.picturepush.com/photo/a/350 ... 141545.jpg
I have taken the liberty to go ahead and translate the russian addons that I use, for your enjoyment.
First, I will explain how to get these add ons ready and installed in no time.
HOW TO INSTALL ADDONS

(credits to SLA at UI9.RU)
Ever since the release of version 1.0.06, the activities of our community full legalization:) Now, Astrum Nival has provided us with an official API to create addons.
1. First, download this file:
http://www.mediafire.com/?2yczndflnda
and add it into your Allods Online/data folder.
2 In the folder Allods Online \ data \ Mods folder, create a folder named Addons.
3 Download the addon pack, and in the folder Addons, extract the rar with the addons (eg "MyAddon"), and put it in Allods Online \ data \ Mods \ Addons folder.
(Not to be confused with the folder SampleAddons!)
4 For example, if an addon is called "MyAddon", it should get such a chain of folders:
Allods Online\data\Mods\Addons\ MyAddon
5. Start the game, on-screen input a login / password in the bottom left corner of the screen contains the button "User Addons", click and make sure it is highlighted as gold, like so:
6. Enjoy the addons, configure them to your own taste, and post anything you encounter here or whisper me ingame! (contact info below)
Please post any translation errors or bugs you encounter with these addons.
ADDON PACK DOWNLOADS(NEW VERSIONS WILL BE COMING PERIODICALLY)
DOWNLOAD:

http://www.mediafire.com/?qrvzmzmfyqy

Version 2.5

CREDITS TO _LordRuffian_ for helping me create this release.
CREDITS to Icarus07 for making the new minimap release.

Any addon from the last patch that was not said to be removed from the last version still remains in this one, along with some new ones, some changes, and some removed addons.

Added KillKompas
Added AutoDeleteMail
Added AutoSellGreyAddon
Added SimpleCritAnnounce
Added TargetofTarget

AutoDeleteMail: Translated. Works perfectly. Saves a BUNCH of time if you use the auction house a lot. Only deletes mail that has been read and has no item or gold attached to it.

AutoSellGrey: Did nothing. Works perfectly. Sells grey items each time you open a shop.

DDStat: Shrank the text, moved it down between the two skill bars, more out of the way.

RealAgroR: Removed the frame. It's still draggable, you just have to drag from 3 pixels up and to the left of the top bar. I like it like this because it's a lot smaller, especially if only two or three people have generated threat. I put mine right under my target - it's very lean. Perhaps you could include this as an alt version?

SimpleCritAnnounce: Re-formatted messages. Works perfectly. Announces your crits on-screen in the format "skill (damage)". Saves you from having to watch your combat log.

TargetOfTarget: Re-coded some of the LUA. Panel now disappears. Some of the addon API doesn't quite work as documented, so I couldn't get it to work as intended. The panel only shows up when your target is in combat. Honestly though, do you ever need to see your target's target if your target is out of combat? At least the panel goes away now. I'm going to further fix it so the panel doesn't show if the player is the target's target. This addon shows the target of your target, this is freely draggable, so move it to your liking.

Minimap: The new Minimap release pack by Icarus07 has been released and included in this new pack. Now, all icons are shown on the minimap.

KillKompas: Fixed this up, this addon removes the compass in game and the pointerbutton that allows you to remove elements from the map, which both honestly take up space. By using this addon, you have more than enough room for the minimap.
CREDITS FOR DEVELOPING GO TO THEIR RESPECTIVE RUSSIAN DEVELOPERS. ALL TRANSLATION HAS BEEN DONE BY ME, PAUSE. CREDITS FOR DEVELOPING ALSO GO TO PEOPLE WHO HAVE HELPED ME MAKE THIS PACK, AND ARE IN THE README FILE OF EACH .RAR AND IN THE THREAD.
THE ADDONS I HAVE PERSONALLY MADE WILL BE SPECIFIED AND I TAKE CREDIT AND EXPECT TO BE TREATED IN SUCH A WAY.
Special Thanks to every member of my former guild, KGB, on Empire - Teness. Thank you for Missflash, Draul, and Darkwanderer for also helping me test various release candidates before I posted a public release candidate on the forum,\
If you have any questions, whisper me (Pause) on Teness (League). Or post in this thread and I will get to you ASAP.