Welcome to my guide!
My name is Coda, and I am a lvl 55 summoner on the League faction of the Sihal server and the leader of Transcend. The summoner was my first character and most-played class. The Everlasting Battle patch 4.0.03 brought some huge changes for summoners, many of which will be outlined in this guide.
Table of Contents
1.0 Patch Changes Overview
2.0 The Build
3.0 Talents
3.1 Offensive
3.2 Defensive
3.3 Utility
4.0 Rubies
4.1 Active
4.2 Passive
5.0 How to Use It
5.1 Single Target
5.2 Multi-target
6.0 Closing Remarks
1.0 Patch Changes Overview
Acid builds received a massive DPS boost, and Vamp builds arguably did as well. Vamp builds now must have Lurker pet in order to generate enough blood due to Vampirism nerfs. Acid/vamp hybrid builds are now viable.
2.0 The Build
The following is an Abomination/Acid Bolt build for endgame PvE DPS.
Abomination/Acid DPS Build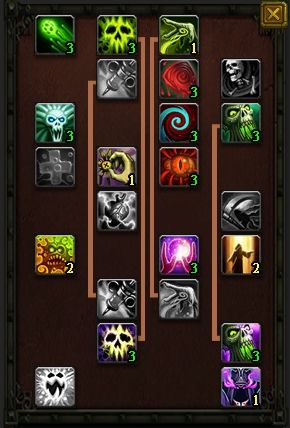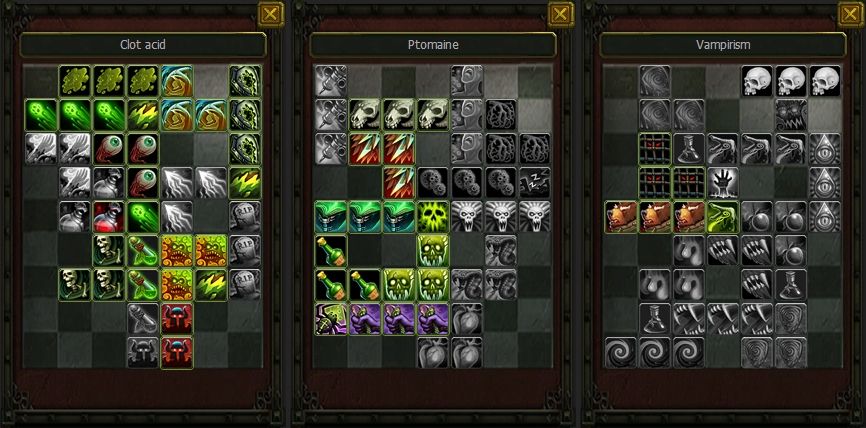 This is currently the build that I use, and I use the first two extra talent point scrolls and the first two mage pages (+3 talent points and +2 rubies total.) I was originally going to focus on a Lurker/Vamp/Acid build, but I found that the mana costs to run such a build were outrageous. Instead, I chose to work with a straight acid build because it requires fewer rubies, does comparable DPS, and uses far less mana (partly because spare rubies can be used on mana buffs.)
Pros: High DPS, moderate survivability, very low mana usage.
Cons: Not the highest DPS on average, no huge nukes, not good for 1v1 PvP, no blood regeneration during combat (so no powerful heals.)
3.0 Talents
3.1 Offensive
Acid Bolt
- Your main attack. Ranged and with a short cast time.
Putrefy
- Your main DoT attack (damage over time.) Deals damage every few seconds for a set period of time.
Volatile Infection
- Possibly the best AoE attack (area of effect) in the game. It spreads to nearby enemies and deals massive damage.
Decay
- The upgraded version of Putrefy. Once obtained, you should stop using Putrefy.
Dark Vigor
- Causes your minion's attacks to add stacks of an effect to your target. Acid Bolt removes these stacks and deals massive damage. Used on boss battles or sticky situations.
3.2 Defensive
Blood Aegis
- Adds stacks of the Blood Aegis effect to you. Each stack gives 8% increase to your armor. Each attack on you removes one stack.
Rise From the Dead
- Heavily nerfed in the patch, Rise now only gives 20% (30% at R3) health and mana. Still, it gives your healer enough time to save you.
3.3 Utility
Fear
- Causes the target to run around in fear for a few seconds. Often used as a panic button.
Dark Pact
- Both an active and a passive skill. Using it gives you 5 blood at the cost of 15% of your health (if you have under 15%, this WILL kill you.) This build mostly uses DP for its passive function, giving you 1 blood every 5 seconds out of combat.
Summon Fiend
- Summons a minion that has a single target attack (Acid Spit) and an AoE attack (Acid Splash.) Acid Splash should be used whenever facing 2 or more targets.
Dark Renewal
- I had an extra talent point to use, so I chose to put it here. I chose DR because it doesn't use blood.
Siphoning Fever
- Has a chance to give you 1 blood every few seconds and deals massive damage when it runs out (1.5 minutes.) Can also be turned into a DoT spell with rubies. Can only be used on one target at a time. Using it again will cancel the previous one.
Aura of Potency
- Gives you a 15% attack buff in exchange for a 50% reduction in heals. This is also a party buff, which means all members in your party receive a 15% buff in magic attacks.
Summon Abomination
- The upgraded version of Fiend. Once obtained, you should stop using Fiend. Summons a minion that has a single target attack (Acid Spit) and an AoE attack (Acid Splash.) Acid Splash should be used whenever facing 2 or more targets.
4.0 Rubies
Most of the rubies are self-explanatory, such as Evil Genius boosting your Intelligence stat by 9% at R3. This section is to highlight a few of the more complicated or unique rubies to our class. They are separated into Active (castable) and Passive (automatic or non-castable.)
4.1 Active
Neurotoxin
- This is your second DoT, and it is castable just like Putrefy/Decay. It is located on the Putrefy Grid in the bottom left corner. It does very low damage, but it stuns the target when it runs out and it also auto-casts Putrefy/Decay if you have the Withering Touch rubies.
Corrosive Acid
- This is a DPS booster skill that has a 2 minute cooldown at R3. It is located on the Acid Grid near the top right corner. Casting this places 20 stacks of the Corrosive Acid effect on the enemy, and stacks will disappear and deal damage every time the target is hit with an acid attack. This includes Acid Bolt, your minion's attacks, and the attacks from other Summoners and their minions. Using Corrosive Acid will greatly increase your DPS and should always be used on bosses.
Summoning Mastery
- The third and final castable ruby in this build. Master Summoner is located near the bottom of the Acid Grid. It was previously spread out across the whole Acid Grid but is now conveniently condensed. Casting Summoning Mastery allows you to summon a minion instantly, which is really useful in battles when your minion is killed or even out of battle so you don't have to wait 10 seconds to cast. Losing your minion causes you to lose a lot of your DPS, so I consider Summoning Mastery to be a DPS booster.
4.2 Passive
Acidic Accumulation
- Located near the top of the Acid Grid, this is a passive ruby, which means you cannot cast it. With Acidic Accumulation, every time you hit an enemy with Acid Bolt, it gains a stack of the Acidic Accumulation effect (maximum of 6 stacks.) Each stack increases damage done to that target by your minion by 2%. Having 6 stacks on your enemy greatly boosts your DPS.
Withering Touch
- This is a passive ruby located near Neurotoxin in the bottom left corner of the Putrefy Grid. It causes your Volatile Infection and Neurotoxin to auto-cast Putrefy/Decay. This can save you the hassle of having to recast Putrefy and save you the mana from casting Putrefy. Neurotoxin has a 45% chance to cast Putrefy each time it deals damage, so it almost always refreshes Putrefy before it runs out.
Necropotency
- Another passive ruby, this is located near Neurotoxin and Withering Touch on the Putrefy Grid. This effect is activated by Putrefy/Decay and has a 50% chance to activate every time they deal damage. Each stack reduces the cast time of Acid Bolt and Dark Renewal (and other spells not in this build) by 20%. It can stack up to 5 times, which means you can insta-cast Acid Bolt/Dark Renewal (even while running.) Don't expect it to reach 5 stacks very often unless you have Putrefy on a lot of mobs at once (easily done by casting Volatile Infection and having it auto-cast Putrefy.)
5.0 How to Use It
5.1 Single Target
Acid Bolt is your main attack and should be spammed. Your Abomination should be set on Acid Spit and should be attacking, and DoT's should always be ticking. After casting Putrefy/Decay in the start of the fight, only recast Neurotoxin (which refreshes Putrefy/Decay) to save mana. Corrosive Acid may be used on tough single-target enemies and always should be used for bosses. Dark Vigor is an emergency DPS skill used only for bosses or the rare PvP. All blood should be used for Aegis and Ghostly Cover.
5.2 Multi-target
The multi-target techniques are far different than the single target techniques. For groups of mobs, set pet to Acid Splash and have it attack, and cast Volatile Infection. It's good to tell your pet to attack multiple enemies by tab targeting (pressing tab to switch targets) so that it won't stop attacking if the first target dies and will instead keep hitting the next target, but be sure not to accidentally pull another mob or group of mobs. Once your pet is attacking, use Acid Bolt over and over and use tab targeting again to hit a different opponent each time. This causes the Acidic Accumulation rubies to affect the targets (each Acid Bolt adds 1 stack to an enemy) and increase the damage done by your Abomination's attacks. In longer battles this will make your DPS soar, since it could make each hit on each enemy increase by up to 12%. Be sure to refresh Volatile Infection every time it explodes. All blood should be used for Aegis and Ghostly Cover.
6.0 Closing Remarks
Well that's it. I hope you learned something from my guide! Feel free to message me in game if you have any questions or comments.