Table of Contents
Introduction
Part One
i. Barriers
ii. Inner Light / Spiritual Purity
iii. Pros and Cons
iv. World Mysteries
Part Two
i. Racial Abilites
ii. Tears of Dragon
iii. Skills
- Talents
- Ruby Grid 1
- Ruby Grid 2
- Ruby Grid 3
Part Three
i. Builds
- Physical
- Holy
ii. Weapons
iii. Stats
- Endgame
- Leveling
iv. Rotations
- Holy
- Physical
Part Four
i. Reincarnation
ii. Reincarnation Skills
iii. Reincarnation Suggestion
iv. Paladin vs Other Classes
Part Five
i. Videos
ii. Extra Resources
Credits
Future Updates
Hälsningar! I currently go by the name of Orla and have played Allods since Closed Beta, on and off. At the time of creating this guide I am awaiting the arrival of the Subscription Server(Smuggler's Paradise) and hope to share some knowledge of Paladin to everyone.
As a Paladin, my current -and favorite- role is Damage, while the other option is tanking. Paladin is one of my most favorite classes for many reasons, the best reason being it's high burst damage in all aspects of the game, especially PvP.
With the most recent patch, Everlasting Battle, not many changes have been made to Paladin besides a few minor icon changes, so let's go ahead and start diving in.
Part One
Barriers
*(Max of 3 via rubies, 1 is auto unlocked when first created)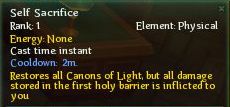 Inner Light/Spiritual Purity

Pros and Cons
Pros
-High damage in any spec
-Able to chose between burst and survival
-Holy AoE is OP
-Several party skills
-Can still use barriers while stunned
Cons
-Barriers are tedious
-Phys takes up a lot of energy
- Expected to tank most of the time
-Tons of Paladins around
World Mystery Spells
Gift of Tensess
Resurrects a friendly target, 20h CD.
Renewed Courage
Cancels all fear effects and makes you immune for 10s. 30s CD.
Mystery of the Light
Increases healing of all party members by 100% for 10s, consumes 1 canon of Light. 5m CD.